PCI Express PHY and Controller Solution
This PCI Express (PCIe) solution includes a single-lane endpoint controller (FTPCIE200), a four-lane endpoint controller (FTPCIE210) and transceiver PHYs in various foundry processes. FTPCIE200 is a PCI Express endpoint controller that is compliant with the PCI Express base 2.0 specification and supports single function and single virtual channel. For the transceiver interface, it provides 16-bit PHY interface and is compliant with the PIPE Specification v2.0 (16-bit interface). For the application interface, it provides an AHB bridge.

Functional Block Diagram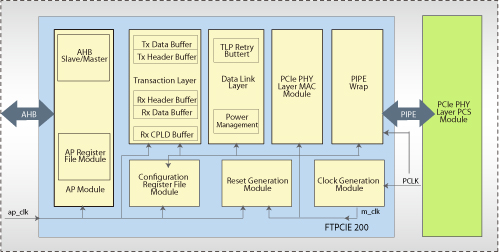 Key Features
Compliant with PCI Express base 2.0 specification
Supports 16-bit PHY interface and compliant with 16-bit PIPE Specification, v2.0
Supports AMBA 2.0 AHB interface
Supports PCI Express Gen2 speed negotiation
Fully supports PCI Express Transmitter/Receiver transaction ordering rules
Supports PCI Express native power management ASPM L0s and L1
Supports single lane with polarity reversal
Supports single virtual channel and single function
Supports 6 BARs with 32-bit address space
Supports INTA interrupt signaling, MSI-X and MSI, including Per-Vector Masking for MSI
Supports Advanced Error Reporting(AER)
Supports ECRC generation and checking
PCI Express PHY
This PCI Express PHY (transceiver) provides a complete range of functions. It is compliant with the PCI Express specifications of version 2.0. This device is capable of transmitting or receiving data of up to 5.0 Gbps.
Functional Block Diagram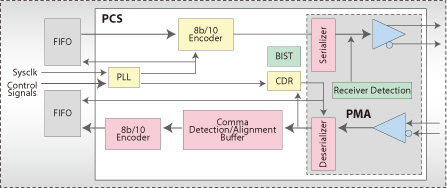 Key Features
Supports the data transfer rate of up to 5.0 Gbps
Compliant with Intel PIPE macro 2.0
Supports the PCI Express data receiving recovery function
Synchronized PCI Express data transmissions
Integrated Phase-Locked Loop (PLL) oscillator
Auto-calibrates On-Die Termination resistor Adjustable de-emphasis
Adjustable TX signal Amplitude